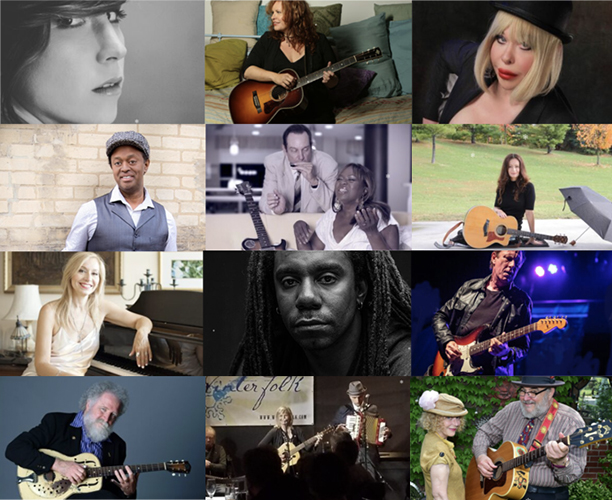 After 19 consecutive years, the organizers of Toronto's annual Winterfolk Blues & Roots Festival aren't going to stop for a pandemic. After all, they decide every year to throw a festival in the middle of the Canadian winter. S0, undeterred, Winterfolk XIX is set to stream Friday, Feb. 19th and Saturday, Feb. 20th online.
Registration to watch is free, and optional donations will be collected in support of the Daily Bread Foodbank.
While the logistics are different for 2021, Winterfolk's renowned lineup of the best and award-winning musicians across blues, rock, jazz, folk, roots, and more remains the same. On deck are Julian Taylor, Jack deKeyzer, Ken Whiteley, Laura Fernandez, Melanie Peterson, Mandy Goodhandy, Donné Roberts, Diana Braithwaite, Chris Whiteley, Ariana Gillis, Suzie Vinnick, Q&A, and Sue and Dwight.
Winterfolk Blues and Roots Festival was founded by Festival Director Brian Gladstone, and is a division of The Association of Artists for a Better World, a registered non-profit organization.
"For the first time, Winterfolk will not be live in-person," Gladstone confirms. "That said, the challenges the past year have presented all the more reason to celebrate the Festival's 19th birthday.
"This year's virtual celebration is affirming what we in Toronto have long-recognized: this city has an unwavering commitment to musical excellence and, especially in times like these, an equally great commitment to our communities."
Those planning to tune in will need to register online for free access via Winterfolk.com. Registrants will also receive complimentary access to Scenes from Winterfolk XVIII.
WINTERFOLK XIX SCHEDULE:
February 19th, 2021 — 7:00 – 10:00 pm EST
Donnie Roberts
Mandy Goodhandy
Ken Whiteley
Q&A — Tony Quarrington & Zoey Adams
Suzie Vinnick
Julian Taylor
February 20th, 2021 — 7:00 – 10:00pm EST
Melanie Peterson
Sue & Dwight
Laura Fernandez
Jack de Keyzer
Diana Braithwaite & Chris Whiteley
ana Gillis
Winterfolk acknowledges the generous support of the Department of Canadian Heritage and Long & Mcquade.
Winterfolk XIX is February 19th – 20th from 7:00 – 10:00 pm both evenings, online.