Sultans of String, Gary Kendall Band, Anne Lindsay & many more are on the lineup. A
fter two years of an online-only hiatus, Toronto's annual 
Winterfolk Blues and Roots Festival
is back IRL for its 21st anniversary. 
The festival, which features a change of neighborhood this year to Kensington Market, will showcase some of the most talented blues and roots acts performing over the course of two nights, with one night of online streaming.
This year's lineup includes three-time Juno nominees Sultans of String; eight-time Maple Blues Award winner Gary Kendall Band; Jazz Violinist of the Year Anne Lindsay, and many, many more — including Alfie Smith, Black Suit Devil, Brian Blain, Brian Gladstone, Brian Morgan, Camie, Carmen Toth, Chris Birkett, D'Arcy Wickham, Danny Marks, David Celia Band, David Essig, David Laronde, Garnetta Cromwell & DaGroovmasters, Glen Hornblast, Graham Lindsey, Harpin' Norm Lucien, Heather Luckhart, Hilario Duran, Howard Gladstone & The Gladtones, Isabel & The Uncommons, JESSA, Joey O'Neil, Kevin Breit, Laura Fernandez, Laura Hubert Band, Mandy Goodhandy, Melanie Peterson, Myke Mazzei, Noah Zacharin, Ori Dagan, Paul Mills, Quarrington and Adams (Q & A), Robert Priest, Shawn Lawrie & Kendall Kiddie, Tania Joy, Tannis Slimmon & Lewis Melville, Taylor Abrahamse, The Swingin' Blackjacks, The Vaudevillian, Tia McGraff, Toney Springer and Tyler Ellis. Get more info at the festival website.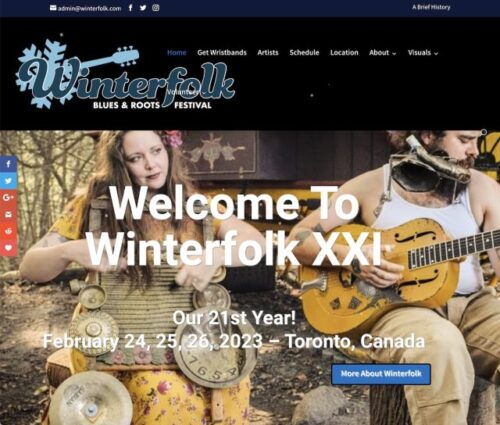 Winterfolk has moved this year to Kensington Market. "Due to this change, Winterfolk's lineup will be slightly scaled back so as to ease comfortably into our new digs, yet we will hopefully return back to full strength next year once we've settled in," said festival director Brian Gladstone. Kensington Market also feels like the perfect environment for fostering Winterfolk's aim of strengthening diversity and inclusivity by adding to its yearly lineups more artists of colour, artists representing the LGBTQ+ community, Indigenous artists, women performers, and new young emerging talent.
Here are the venues hosting this year's performances:
• Freetimes Café: 320 College St. (416) 967-1078
• Taco Taco (2 stages): 319 Augusta Ave. (416) 277-1856
• Supermarket: 268 Augusta Ave. (416) 840-0501
• Church of St. Stephens (2 stages); 103 Bellevue Ave.
• Trinity Common: 303 Augusta Ave.
A $30 Weekend Pass allows admittance to more than 80 performances, while Stream Passes are free (with donations encouraged). A One-Day Pass for either Saturday or Sunday costs $20. Wristbands will be sent via post before Feb. 10. Winterfolk will feature 'cashless doors,' meaning cash will not be accepted on entry. Wristbands can be ordered from Winterfolk.com.