What Winterfolk Offers Artists
We supply a good audience – Great to break in new territory!
Typically, we offer artists 2 – 3 paid performance opportunities during the Winterfolk weekend.
Play for Large Attentive and Appreciative Audiences
Many Artists Consider Winterfolk a Dream Gig
Remuneration will be based on budget considerations, which varies every year.
Sets may be scheduled as a combination of 45 minute sets, and additional shared spots as part of a workshop or seminar.
Your products and CD's will be offered for sale at the Winterfolk Festival store.
Artists get lots of publicity such as interviews and coverage on Radio, TV, Magazine and Newspaper Ads & Flyers, Winterfolk Program Guide – 40,000 copies are distributed at all music stages, Website Listings – bios and pictures posted on our website, and included in media releases. Press and industry will be alerted to music listings including your set times and concert stages.
Full access to stage, backstage, hospitality privileges valid for the entire music festival. Pass to attend festival events like private artist parties and information sessions.
What We Look for in Artists
Winterfolk is looking for hard working professional artists that meet much of the following criteria:
creating a 'buzz' within the music community
filling their calendars (4-5 gigs a month or more)
having a good well maintained website
generating press and media
generating radio play
regular branded email blasts, selling out shows
getting reviews
actively promoting through their social media and email blasts, good YouTube presence
working hard at getting their name out there
and basically doing things to stand out and differentiate themselves from other artists, etc.
We are always looking for an eclectic mix of performers to play the festival including blues, roots, rock, country, jazz, latin and folk musicians. We appreciate all genres, and always seek quality talent.
Other considerations include emerging talent, creativity, originality, potential draw, live music performances, etc
How Winterfolk Selects Talent
1. Artistic Director Committee will Select About 100 Artists
We have our full 2020 line up in place now, and will not be hiring any more artists this year. The only spots still available are through Sonicbids, where we have committed to hire 5 more artists.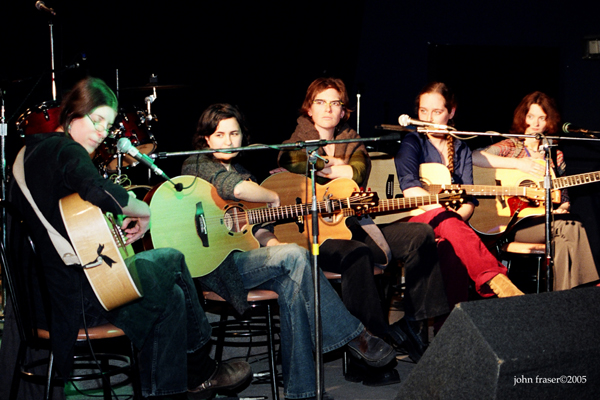 Approximately 100 Artists Will Be Selected by the Winterfolk Music Festival Artistic Director (AD) Team We have a team of three people on the AD committee who decide on the talent as a group.
The AD committee will hire approximately 100 known artists based on a variety of selection criteria, for which the top level consideration falls on artists that best fit the festival programming themes, which vary every year.
Although we hire artists from at least four provinces or territories outside of Ontario, our focus is on southern Ontario talent.
Artist Contact – Winterfolk's Artistic Consultant & Artist contact person is Tony Quarrington performers@winterfolk.com
2. Submit Online or by Mail
Artists can apply online through Sonicbids online, or via by post.
We get over 1,000 artist applying to play every year. Even you contacted our AD, you can still apply for one of the five spots we will award from the Sonicbids website. Entry fee covers our time to evaluate each artist, and is not a profit scheme!
Send press kit to – The Association of Artists For A Better World, 182-4936 Yonge St., Toronto, Ontario, Canada, M2N-6S3, and mark the envelope with 'Winterfolk Submission', accompanied with $15.00.
3. Never hurts to meet the festival director
We have our full 2020 line up in place now, and will not be hiring any more artists this year. The only spots still available are through Sonicbids, where we have committed to hire 5 more artists.
The festival director runs an open stage on selected Saturdays. See Poster for dates. All artists are welcome to come out and play some tunes. If there is any talent that he believes is 'festival quality', it will be reported to the Winterfolk Artistic committee. This is not a festival audition. Check the link below for dates.
If there is any interest on behalf of Winterfolk, they will connect with the artist. More information