Mr. Rick is a Singer and fingerstyle acoustic guitarist performing original arrangements of the Trad. American Roots and Blues Song book.
A solo album by Rick is coming any minute now
Rick's 3rd CD "Songs about God and Booze" available at CD Baby.
Now Magazine, 4 stars.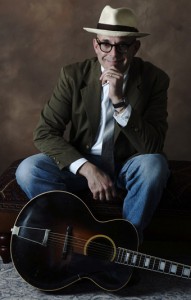 Singer, guitarist, and player of old time Roots Americana, Mr. Rick (aka Rick Zolkower) was born in post war Detroit.
Mr. Rick learned his craft by watching and listening to the iconic folk blues performers of the era at Detroit's famed "Chessmate Coffeehouse". Mr. Rick, has had a passion for Americana music for over 40 years. He started performing and touring in the 1960's.
He currently performs Blues, Jazz, Country, Tin Pan Alley, and Gospel on finger style guitar with vocals – either playing solo or fronting his various ensembles in clubs and festivals. From Country to Blues, and Rock'nRoll to Swing, Mr. Rick is an escort to a rich musical intersection where Genre lines blur and disappear.
Mr. Rick's stage persona is the clever conduit to the era from which the music originates, bringing the past into the present. His music is immediately recognizable as traditional yet not museum re-creations. His CD's "Cocktails and Cornbread" and "Wholegrain" received regular airplay on the CBC and a variety of radio shows including "Vinyl Café", NPR, and many folk and college stations.
His recordings have garnered excellent reviews from The Toronto Star, Now Magazine, Penguin Eggs, Exclaim Magazine, Montreal Gazette, and Sing Out Magazine.