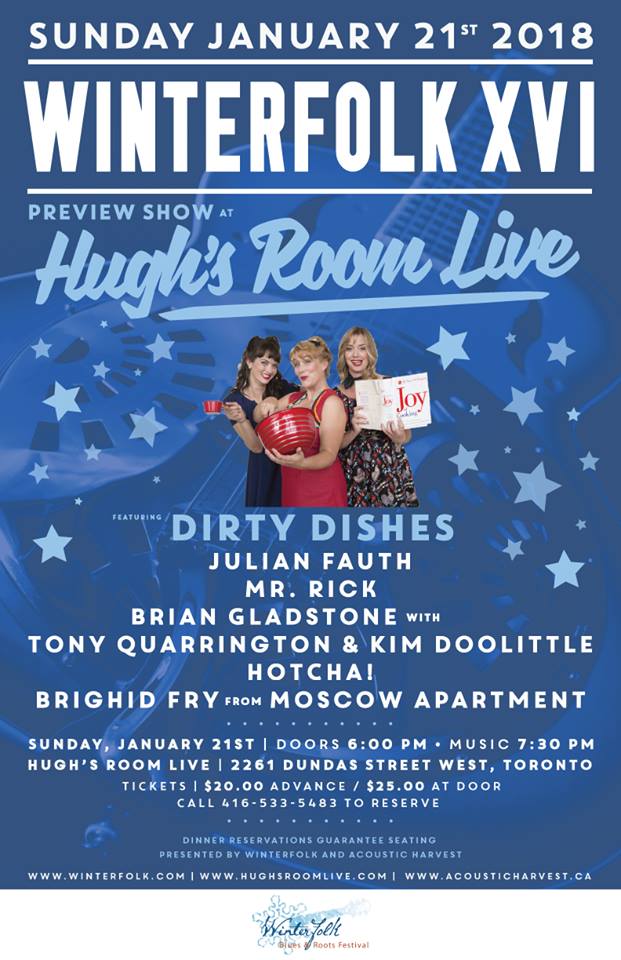 Greetings of the new year with hope for a better future for the World.
As we have done for the past four years, prior to the Winterfolk Festival, we have a sneak-peak at a few of the 150 or so artists who will be performing at the festival. Here's the lineup:
WHO: Dirty Dishes, Julian Fauth, Mr. Rick, Brian Gladstone w/Tony
Quarrington, HOTCHA!, and Brighid Fry from Moscow Apartment
WHAT: Acoustic Harvest + Winterfolk Blues & Roots Festival Present:
Winterfolk XVI Preview
WHERE: Hugh's Room Live, 2261 Dundas Street West, Toronto, ON
WHEN: Sunday, January 21st – Doors 6:00 pm / Music 7:30 pm
TICKETS: $20.00 Advance / $25.00 at Door | Call 416-533-5483 Special discount for Acoustic Harvest members w/ code.
Dinner reservations guarantee seating.
Hope to see you there!