FOR IMMEDIATE RELEASE
MARK THE DATES! WINTERFOLK XII BLUES & ROOTS FESTIVAL FEBRUARY 14-16, 2014 WE'RE BACK ON THE DANFORTH!
WHO: Some of the best blues & roots artists on the Canadian music scene today
WHAT: The Twelfth Annual Winterfolk XII Blues and Roots Festival
WHERE: The Danforth – various venues
WHEN: February 14-16, 2014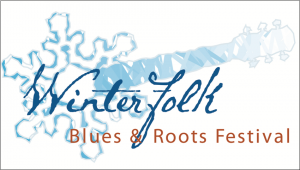 TICKETS: Mostly Free! Please check the website for updates on special events tickets
WEBSITE: www.winterfolk.com
 TORONTO – THURSDAY, DECEMBER 5, 2013 – Be sure to mark your calendars for the 12th annual Winterfolk Blues and Roots Festival taking place February 14-16, 2014. The fest, which is returning to Toronto's vibrant cultural strip on the Danforth, will present more than 150 of the finest folk, roots, world and blues artists – including Lynn Miles, Ron Hynes and Jack De Keyzer. This year, among the many ongoing workshops, the mostly free, all-ages, mid-winter, weatherproof urban blues and roots festival will also include special tribute events, an awards ceremony and a finger-style gu
itar competition. For more information on the festival, how to submit to the guitar competition, and for updates, please visit www.winterfolk.com
Much to the excitement of many in the music community, Toronto's Winterfolk Blues and Roots festival returns to the beloved Danforth area after two years of hotel life. Festival founder and director, Brian Gladstone, made the decision to revisit the unique club crawl version of the fest citing that in the end the hotel atmosphere did not match the charm, vibrancy and character that the Danforth clubs and restaurants scene can provide. The venue owners are ecstatic about the return and support it 100 per cent. This change will present all kinds of fresh opportunities, and so many of the festival-goers are already familiar with the great vibe that was established there in previous years.
Stay tuned for more updates in the upcoming weeks when the festival will announce the venues, artists, special events, tribute concerts and workshops.
 MORE ABOUT WINTERFOLK Winterfolk was formed to entertain, educate, enlighten, engage and encourage the community about various folk music styles including roots, blues, folk and more. Founded by Festival Director Brian Gladstone, it is run as a division of The Association of Artists for a Better World, a registered non-profit organization in the Province of Ontario, Canada. www.abetterworld.ca
 LOOKING FOR VOLUNTEERS! We're always looking for volunteers to help out. For eight hours of service over the Winterfolk weekend, volunteers receive access to all shows, artist hospitality lounge and more! For more info and to sign up, please visit www.winterfolk.com
-30-
We are presently confirming interviews and images are available upon request. Please add to your listings. Thank you!
For media information:
Planet3 Communications Ltd.
Joanne Smale joanne@planet3com.net t: 647-346-4101 c: 416-554-2637
For festival information:
Beverly Kreller
SPEAK Music www.speak-music.com
bev@speak-music.com
416.922.3620
Twitter: @SPEAKMusicPR
Facebook: www.facebook.com/beverly.kreller