Toronto, Ontario's annual blues and roots festival, will be streamed online, February 18-20, 2022 from 7-10 p.m. EST all three nights.
by MICHAEL KORNFELD on Feb 10, 2022 • 10:46 – reprinted from Acoustic Music Scene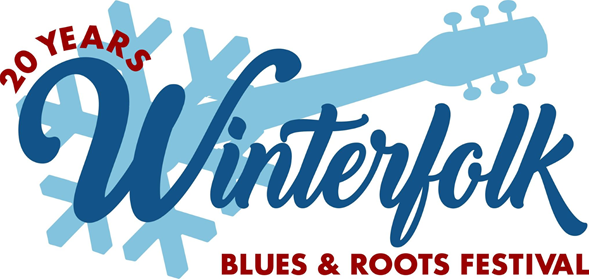 As was the case last year, the COVID-19 pandemic has prompted festival organizers to pivot to an online event. The scaled-back virtual edition of the popular festival, now in its 20th year, will feature primarily Canadian artists.
Although the virtual festival is free, with the option of making a donation to support it, advance registration is required to view the Winterfolk streams. Private credentials — including login data and a password — will be sent via email to those who register online at winterfolk.com/get-stream/.
Participating artists produced and submitted their own videos. The lineup for Friday night, Feb. 18 (in order of appearance) includes Josh Ritchie, Taylor Abrahamse, Lynn Miles, Jerome Tucker Band, Lucy Kaplansky, and Jack de Keyser. Slated to screen on Friday night, Feb. 19 are pre-recorded performances by Ori Dagan, Ken Whiteley and Beulah Band, Mean Mary, Julian Taylor, Robert Priest, and Shari Ulrich. Wrapping up the online musical festivities on Saturday, Feb. 20 are Graham Lindsey, David Storey Band, Rob Lutes, Suzie Vinnick, Donne Roberts Band, and Sue Foley.
The Event's Producer and Participating Artists Share Some Thoughts – Graham Lindsey is playing a major role in bringing Winterfolk to screens (as the virtual producer, recording some performances, editing, and then streaming the festival itself), as well as performing in it as a composer and multi-instrumentalist. "It's a tough time for many, on a whole lot of fronts, but Winterfolk is a great way to kick off 2022 from a performer's perspective and as a virtual event producer," he said.
"I treat virtual shows as a new way of getting music out there, and it's an exciting way to reach new audiences and people," said Lindsey, an Ottawa, Ontario-based video producer for nearly three decades, who has been involved in streaming video since 1998. "We'd all love to be in a time when we could safely get together with other people.
Listen to music, and enjoy life as we used to … but I think of all the people who wouldn't be able to join us: people far away, folks who are unable to get out of their homes, people who are economically unable to afford a ticket," he continued. "The era of virtual shows has really allowed people to pay what they can, to donate to festivals if they're able, to contribute a little … or nothing if they're unable. Festivals like Winterfolk have been able to push forward with great looking and sounding productions that are pushing the boundaries of what we're able to accomplish with the restrictions we have … and we are bringing music to the people!"
Although Winterfolk primarily features singer-songwriters and Lindsey is an instrumentalist, he was invited to perform in the festival as well. He teamed up with Anna Ludlow, a multi-award-winning East Coast Canadian fiddler and vocalist, with whom he's played for about 15 years. She also played in the Canadian production of the hit musical Come From Away. "I've played festivals in-person and online with Anna over the holidays, as well as a project created after the first lockdown, The Broken Bridges, with two great young musicians," said Lindsey. "It's an interesting way to release my music after I recorded an album in 2019 [TradHead] and got some traction … but then 'things happened,' and we all went online."
"Playing Winterfolk signals the start of 2022 and a path out of only playing virtual shows across the country. Celebrating the 20th anniversary of a well-established folk festival is the perfect first stop on my 2022 tour that will take me to Canada's East Coast and out to the West Coast as well," he continued. " I'm excited to play everywhere between, with a focus [on] being accessible online and in-person – allowing people at all levels of ability (economic, mobility, etc.) have music in their lives."
Among the other artists who will showcase their talents during Winterfolk is Lucy Kaplansky. "It's wonderful to be performing for a Toronto festival," she told AcousticMusicScene.com. The acclaimed New York City-based contemporary folk singer-songwriter noted that's where her dad grew up and where his entire family lived for decades. "So I have lots of cousins there and lots of history," she continued. Kaplansky, whose solo recordings have topped folk and Americana charts over the years and who was part of the folk supergroup Cry Cry Cry, said that she will perform old and new songs, as well as an unrecorded one, and talk about how she wrote them. "I've performed in Canada a few times — including Toronto, Montreal, and a couple of festivals," she added. "So glad to be back, even if virtually."
This year's virtual Winterfolk also marks the first time performing for Shari Ulrich, a veteran British Columbia-based singer-songwriter, multi-instrumentalist, and two-time Juno Award-winner, who grew up in the San Francisco Bay Area. Noting that she was "very happy to be invited," Ulrich said: "I was fortunate that I was doing a two-night concert (to accommodate 50% capacity restrictions) in Victoria at James Bay United that was being shot by the presenter Gordon Miller, and thought how nice it would be to be able to offer that setting for my Winterfolk performance — rather than a squished corner of my studio at home." It also meant that she could include the "treasured piano (and accordion) player Cindy Fairbank, who adds a dimension of sparkle and musicality that I knew would be appreciated by the Winterfolk audience." Acknowledging having crammed in as much music as possible into 28 minutes, Ulrich, expressed pleasure in being able "to share this selected part of the evening with other fine Winterfolk XX artists."
Winterfolk seeks to entertain, educate and enlighten audiences about the various folk music styles — including roots, blues, folk, and more – and to engage and support the music community.