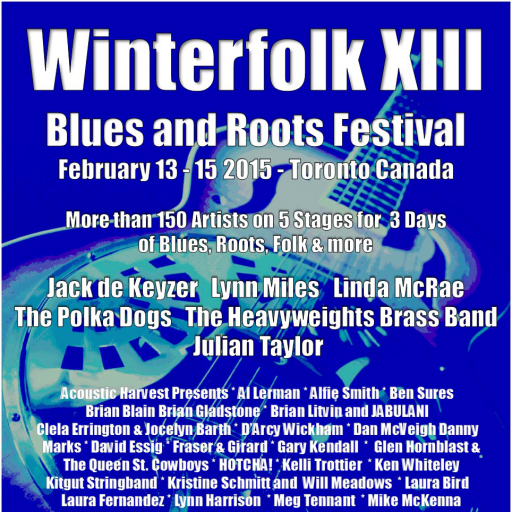 Winterfolk XIII Blues and Roots Festival
Returns Family Day Long Weekend
February 13 – 15, 2015
www.winterfolk.com
Toronto's 13th annual Winterfolk Blues and Roots Music Festival is a combination of paid and free concert stages on the Danforth, February 13 – 15, 2015. It's an all-ages, mid-winter, weatherproof event, where you'll find the best of urban, blues, rock, jazz, country, folk and roots music, emulating a multi-stage rural summer festival. More than 150 artists will be performing at four venues and five stages over three days of the long Family Day weekend. The festival will also include special tribute events, an awards ceremony, community stages and various themed musical workshops with something for everyone to enjoy. Winterfolk is the ideal event for music-lovers seeking new and exciting things to do in the Toronto.
STAGES: The Danforth:
• Black Swan Tavern (two stages), 154 Danforth Ave. 416-469-0537, http://www.torontopubs.com/pub/blackswan
• Dora Keogh Irish Pub, 141 Danforth Ave.
416-778-1804, www.allens.to/dora/
• Terri O's, 185 Danforth Ave.
416-462-0038, http://www.torontopubs.com/pub/terrios
• Globe Bistro (upstairs lounge), 124 Danforth Ave. 416-466-2000, http://www.globebistro.com/
HOURS:
• Friday February 13, 7:00 p.m. – 1:30 a.m.
• Saturday February 14, 1:00 p.m. – 1:30 a.m.
• Sunday February 15, 1:00 p.m. – 11:00 p.m.
Twitter: @AbetterWorldOrg #winterfolk
Facebook:
https://www.facebook.com/pages/Winterfolk-A-Better-World/115302915190784
For more information please visit https://www.winterfolk.com.