Reprinted from East York Chronicle by Gary17 – With over 100 artists appearing on five stages at four venues on Danforth Avenue, the Winterfolk Blues and Roots Festival is set to hold its 14th annual edition in East York from February 12 through 14.
Shows take place over three nights and two days at Dora Keogh (141 Danforth), Terri O's (185 Danforth), Mambo Lounge (120 Danforth) and upstairs and downstairs at Black Swan Tavern (154 Danforth). A $15 wristband gets audiences admission to all of the shows over the weekend except for special "ticketed" events. ( See www.winterfolk.com for full details.)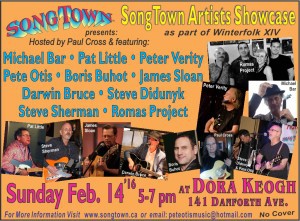 As in past years, East York artists are featured prominently on the roster. Veteran talents like Sebastian Agnello, Mike McKenna, Pete Otis and Peter Verity will appear along with hot current acts such as Julian Taylor, Harpin' Norm Lucien and first-time participant Lynn Mantle.
In addition, a showcase being staged by Otis through his SongTown music promotions and event staging enterprise on Sun. Feb. 14 from 5-7 p.m. will see even more local talents appear for 15-minute sets. As well as Otis and Verity, other EY participants include event host and broadcaster/songwriter Paul Cross and songwriters Michael Bar, Darwin Bruce, Steve Sherman and John Romas.