– HONOURING OUR OWN: CELEBRATING CANADIAN TREASURE TONY QUARRINGTON
– THIS ONE'S THE DREAMER: REMEMBERING RICK FIELDING
– GRAINNE CD RELEASE OF LAST YEAR'S "LIVE at winterfolk" RECORDING
– REMEMBERING OUR ROOTS: A FORAY INTO CANADA'S ROOTS MUSIC SCENE IN THE 1960S
– FOUR TICKETED EVENTS ANNOUNCED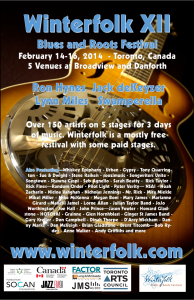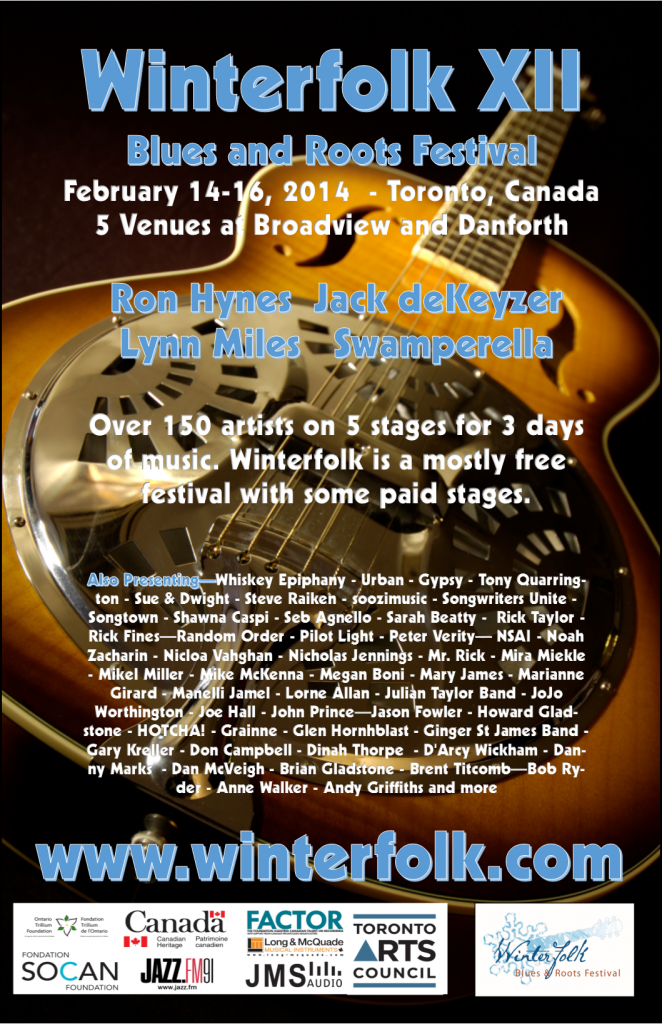 TORONTO – THURSDAY, JANUARY 16, 2014 – The Winterfolk XII Blues & Roots Festival proudly presents a wonderful lineup of quality programming to entice festival-goers. Local promoter Pete Otis brings his Songtown event "Honouring Our Own" again this year to celebrate veteran musician Tony Quarrington. The late great Rick Fielding is remembered fondly in the special presentation  "This One's the Dreamer," and Winterfolk darling Grainne will release the much-anticipated CD, the foundation of which was recorded live at last year's festival. Under the umbrella of the theme "Remembering Our Roots," (a foray into the Canadian music scene in the 1960s), there are three events: The Spirit of Yorkville, Before the Gold Rush and Where Have All the Folk Songs Gone. There will also be four ticketed events, including the Tony Quarrington celebration, a master songwriting workshop, the return of the electrifying Jack de Keyzer, along with roots artists Ron Hynes and Lynn Miles, and a very special Valentine's Day event, "Love at Winterfolk," with a Winterfolk martini dubbed the WF Kocktail Kiss!  For more information please visit www.winterfolk.com
HONOURING OUR OWN: CELEBRATING TONY QUARRINGTON
SUNDAY, FEB. 16 @ 7-11:00 PM
The Black Swan Tavern (2nd Floor)
154 Danforth Avenue
Tickets: $15 by visiting www.songtown.ca or www.winterfolk.com
Or email peteotismusic@hotmail.com  / call 416-522-9896
w/ guests Jaymz Bee, Brent Titcomb, Joe Hall, Zoey Adams, Margaret Stowe, Soozi Schlanger, Noah Zacharin, Laura Fernandez, Don Francks, Brian Gladstone, Howard Gladstone, Fergus Marsh, Stuart Laughton, Denis Keldie and more.
Veteran musician Tony Quarrington has been a formidable and thriving presence on the Toronto music scene for more than 40 years. He first appeared at the Mariposa Folk Festival in 1966, and played at many renowned Yorkville nightclubs and coffee houses in the late '60s, performing ballads, blues and his own original tunes.
Quarrington's relentless career as a sideman and studio musician has seen him appear on literally hundreds of other artists' recordings, playing guitar, banjo, mandolin, piano and dobro, and lending his voice as a singer. He spent the '70s and '80s playing countless sessions, and eventually moved into a new role as a producer, helming dozens of widely varying projects. In 1998, he won a JUNO Award for his work on Willie P. Bennett's masterful roots recording, Heartstrings. He not only produced, but arranged and played on this seminal album, and also wrote its title song.
Although Quarrington has always enjoyed playing jazz, (and that's been the main thrust of his live playing in the '90s and 2000s – he's released 15 jazz recordings as a bandleader or co-leader, and appears on dozens more as a sideman), he is well known as a folk and roots music powerhouse. Quarrington has had long musical associations with such notable performers as Joe Hall, Daisy DeBolt, Brent Titcomb, Willie P. Bennett, Rick Fielding, Laura Smith and Mose Scarlett.  Most widely known as a brilliant guitar virtuoso, Quarrington has always written songs as well. In 2012, he showcased his remarkable skill as a songwriter in two solo recordings of his own material, First Set and Gathering Place: Songs Of Toronto.
His songs are thoughtful, literate, and well-crafted: they display a unique musical style, with unusual twists and turns, both in melody and emotion. Some are funny, some tender and lyrical. He has penned tributes to such musical heroes as Django Reinhardt, Hank Williams, and Lonnie Johnson, and wistful tunes like "The Waltz We Never Quite Danced." There's a bluesy tinge to his singing voice that's both captivating and memorable.
THIS ONE'S THE DREAMER: REMEMBERING RICK FIELDING
SUNDAY, FEB. 16 @ 1- 4:00 PM
Dora Keogh's
141 Danforth Avenue
w/ guests Joe Hall, Tony Quarrington, Chris Coole, Glen Reid, Darcy Wickham, Lynne Mantle, Mose Scarlett, Glen Hornblast, Joanne Crabtree and more.
The music of the late Rick Fielding (1944-2004) spans country, blues, bluegrass, traditional ballads, contemporary folk, and more. Fielding was an accomplished musician who played guitar, banjo, dobro, mandolin, and autoharp, and who truly loved performing, teaching, and talking about music – whether on stage, in a classroom, or over a kitchen table.
Growing up in Montreal in the 1960s, Fielding was influenced by the likes of Sonny Terry and Brownie McGhee, Leadbelly, Woody Guthrie, Rev. Gary Davis, Pete Seeger, Josh White, and The Weavers. After moving to Toronto in 1969, he quickly established himself as a fixture on the Toronto folk festival and club scene, where he met and worked with musicians like Gordon Lightfoot, Ian and Sylvia, Tom Paxton, Arlene Mantle, and dozens of others. He was a founding member of one Toronto's first bluegrass groups, the infamous Gangreen Boys, with David Wilcox and Tony Quarrington.
Fielding could pick with the best of them, but he was also known as a sensitive interpreter whose tasteful arrangements let the songs shine through. He was an award-winning songwriter who had his songs sung by the Jura Ceilidh Band, Guy and Candy Carawan, and dozens of other artists. He toured extensively throughout Canada and the U.S. as a solo performer, establishing himself as a favourite on the folk scene. His music had taken him from intimate folk clubs to major festivals across North America where he delighted audiences with his eclectic repertoire, tasteful accompaniment, and expressive singing style. In addition, he was well known on Toronto's airwaves as the host of the folk show Acoustic Workshop on CIUT Radio 89.5 in Toronto.
His album, This One's The Dreamer, was his first for the Borealis Records label, and continued to showcase his trademark virtuosity on a wide range of folk music. Fielding's last album, Acoustic Workshop, was completed just two months before his untimely passing, and features a number of his favourite picking pals, including Tony Trishka, the late Oliver Schroer, Don Reed, Grit Laskin, Chris Coole and Paul Mills
GRAINNE CD RELEASE (LIVE AT WINTERFOLK)
FRIDAY, FEB. 14 @ 10-11:00 PM
Terri O's 185 Danforth Avenue
"She's honest, direct, and writes the absolutely catchiest hooks I know; the album should come with a related warning label" ~ Andy Frank, Frankcasting (frankcasting.com), Roots Music Canada
Grainne (pronounced GRAWN-ya) has worn out the soles of several pairs of shoes walking the roads of the stories in her songs. She's leapt headfirst into heartache, heard the sound of the earth weeping, and has still managed to put a positive spin on it all. Grainne's big voice, powerful lyrics and gutsy, earthy sound will have you singing along to her infectious melodies.
Some of the ten tracks from Grainne's album, Looking For Sunshine, (originally produced by Canadian rock veteran, Moe Berg of The Pursuit Of Happiness), were re-recorded at last year's festival with guest artists Tony Quarrington on guitar, Bev Kreller of HOTCHA! On percussion and vocals, and Grainne's sister Cora doing backup vocals. Engineered and produced by John Switzer, with tasty overdubs by Harpin' Norm Lucien and Lawrie Ingles on bass, the album is ready for release as promised.
REMEMBERING OUR ROOTS THEMED PRESENTATION
SUNDAY, FEB. 16 @ 1- 5:00 pm
Globe Bistro (The Listening Room, 2nd floor)
124 Danforth Avenue
The Spirit of Yorkville
Voice of a Generation, featuring various iconic talents of the area's halcyon days in the '60s and early '70s.
1 p.m. David Depoe, Beverly Robertson, Judith Orban, Klaas van Graft
2 p.m. Joanne Crabtree, Keith McKie, Cliff Kid Martin, Chick Roberts
Before the Goldrush
3 p.m. Author of 'Before the Goldrush' Nicholas Jennings, one of Canada's foremost music journalists and historians, will talk about the history of the local roots scene and show rare slides and images of Canada's emerging roots scene in the '60s.
Where Have All the Folk Songs Gone
4 p.m.Hosts Sue and Dwight with Michelle Rumball and Tony Laviola – An audience participation, 1960s singalong tribute.
OTHER TICKETED EVENTS:
LOVE AT WINTERFOLK (A special Valentine's Day event)
Friday, Feb. 14 @ 8:00pm -12:00 am / DOORS @ 7 PM
The Black Swan Tavern (2nd Floor)
154 Danforth Avenue
Tickets: $10 Advance, $12 Door
Nice and a bit naughty describes what's in store for this special Valentine's Day event. Ladies, be prepared to be serenaded at your table and plied with Valentine's cheer. A drink designed especially for this night at Winterfolk is called the WF Kocktail Kiss. w/ guests HOTCHA!, Ginger St. James Band, Random Order and Swamperella.
SONGWRITERS STAGE and Master Songwriting Workshop
SATURday, Feb. 15 @ 1- 4:00 pm
Globe Bistro (The Listening Room, 2nd floor)
124 Danforth Avenue
Tickets: $10 Advance, $12 Door
Songwriters Showcase
1 – 2:30 p.m.  The Story Behind The Songs and Where They Came From
Hosted by Shawna Caspi with Brian Gladstone, Grainne, Glen Hornblast
2:30 – 4 p.m.  Master Songwriting Workshop
Lynn Miles, Brent Titcomb and Ron Hynes
Three of Canada's top songwriters play tunes and reveal their songwriting process and magic.
WINTERFOLK ROOTS AND BLUES
SATURday, Feb. 15 @ 8:00 pm -12:00 am
The Black Swan Tavern (2nd Floor)
154 Danforth Avenue
Tickets: $12 Advance $15 Door
An evening beginning with roots music greats and ending with blues royalty.
w/ guests: David Bradstreet, Lynn Miles, Ron Hynes and Jack de Keyzer, who starts off with a rare acoustic set, then is joined by his electrifying blues band to close the night.
**Please stay tuned for more updates and info on the various stages, tribute concerts, awards ceremonies, community stages and workshops being held during the festival.
***********************************************************************************************************
Winterfolk gratefully acknowledges the generous support of the Government of Canada through the Department of Canadian Heritage, the Ontario Trillium Foundation, the Toronto Arts Council, the SOCAN Foundation, FACTOR, Long & McQuade Musical Instruments, Metroland Media, and JAZZ FM.
MORE ABOUT WINTERFOLK
Winterfolk was formed to entertain, educate, enlighten, engage and encourage the community about various folk music styles including roots, blues, folk and more. Founded by Festival Director Brian Gladstone, it is run as a division of The Association of Artists for a Better World, a registered non-profit organization in the Province of Ontario, Canada. www.abetterworld.ca
LOOKING FOR VOLUNTEERS!
We're always looking for volunteers to help out. For eight hours of service over the Winterfolk weekend, volunteers receive access to all shows, artist hospitality lounge and more! For more info and to sign up, please visit www.winterfolk.com
-30-
We are presently confirming interviews and images are available upon request. Please add to your listings. Thank you!
For media information:
Planet3 Communications Ltd. 
info@planet3com.net
t: 289-296-6223 c: 416-554-2637
For festival information:
Beverly Kreller
SPEAK Music
www.speak-music.com
416.922.3620
Twitter: @SPEAKMusicPR
Facebook: www.facebook.com/beverly.kreller