Mandy Goodhandy will be teaming up with her musical partner as the duo "Lady & the Rambler"
Mandy Goodhandy is a singer, comedian, and author who dips into her background of Musical Theatre and Cabaret. Her choices of torch songs and ballads are counteracted with her funny style when speaking to the audience.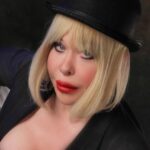 Sebastian Ellis is a singer-songwriter and pianist. His extensive repertoire covers a wide range of rock n' roll, jazz, blues and country songs from the 1940's, 50's and 60's, along with an impressive selection of original material.
The combination of the two is a perfect blend of styles that leave an audience feeling they just stepped back in time to vaudeville with a touch of "Memphis Tennessee meets Broadway."