By Paul Corby Feb 26, 2019, as printed in Roots Music Canada Magazine – A rousing carousel of song spun everything from simple roots folk to visceral blues scorchers past an audience of musical tourists this past weekend on the upper east bank of Toronto's Don River. For the seventeenth consecutive year, the Winterfolk Festival gave a woebegone February something to be proud of. Three bars with a total of five stages along Danforth Avenue rotated 150 artists for two days and three nights while a dedicated clientele absorbed a bright and broad array of talent in performance, workshop and themed-concert formats sustained by volunteer power.
At the Mambo Lounge, a Cuban-style dining room, pristinely silent listening galvanized presentations by trad, acoustic and jazz acts. Crowds adored the delicate balladry of Maggie and Mr. Rogers, the real folk blues of Alfie Smith and hype duo Tragedy Ann, whose heartfelt songs and stage savoir faire prevailed over a packed crowd and a big screen ball game. Their affectionate authenticity was a welcome live antidote to the kind of lovestruck musical artifice portrayed in A Star Is Born.
At Dora Keogh's across the avenue, an effervescent Irish-flavoured ambience raised the intensity bar for performers, especially at The Bridge colloquium, where emotions ran deep in response to the challenges and resolutions recounted as true life stories by Howard Gladstone, Chloe Watkinson and moderator Lynn Harrison.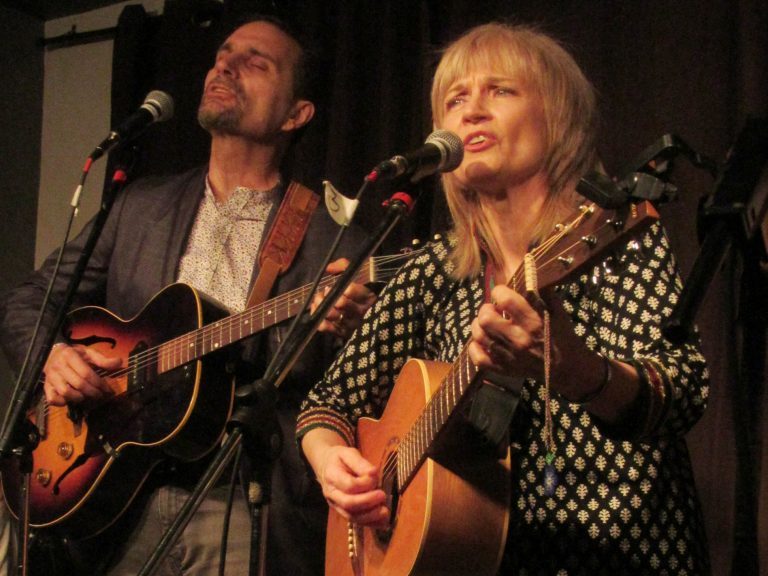 Upstairs, in a more sequestered space with minimal bass bleed, a more congenial atmosphere offered a fine showplace for a performance of Tony Quarrington's WW1 exposition For King And Country; a showcase of Borealis Records' contemplative slate of artists; Donné Roberts' enchanting African blues squad, featuring Ken Yoshioka; and a massive storm front of electrifying guitarists in a Sunday afternoon shred-off.
A third-floor aerie, The Learning Room, was typically packed to the crossbeams for intimate seminars featuring fingerpickers, accordionists, harmonicists and fiddlers sharing tricks and tirades about how they hone and sustain their professional skill sets. Featured participants also came here to share revelatory facets of their repertoires under themed conceptual parasols before totally engaged audiences. At Songs of Canada, Halifax natives Cassie & Maggie, now living in Toronto, offered a sentimental "Farewell to Nova Scotia" and a chilling take on Stan Rogers' dramatic "White Squall." Another ominous presentation, entitled Songs of Protest and Social Change allowed Sebastian Agnello, Jon Brooks, and Sue and Dwight a chance to give political activism a rare public airing. Sebastian's original "Ask Lenny Bruce," Sue & Dwight's spirited revival of Phil Ochs' "I Ain't Marchin' Anymore" and Jon's massive declamatory vibe and hypnotic guitar playing on "Song Of The Mournful World" provided critical thought for current quandaries of conscience and gave the audience goosebumps that you could grate cheese on.
This year, tolerable temperatures, Saturday's blaze of long-lost sunshine, and the absence of noise complaints and predicted gale-force winds combined to bring out a good crowd of grateful bros, beatniks and beautiful souls to three outposts of folk culture, kindling a communal appreciation of those better aspects of social companionship that only music can magnify. At times it seemed as if we were enjoying not songs, but ceremonies.