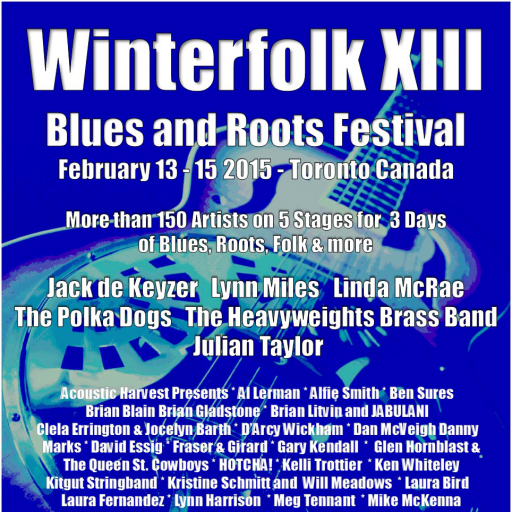 WINTERFOLK XIII BLUES & ROOTS FESTIVAL
Twitter: https://twitter.com/ABetterWorldOrg
Hashtag: #Winterfolk2015
Facebook: https://www.facebook.com/pages/Winterfolk-A-Better-World/115302915190784
Facebook Event Page: https://www.facebook.com/events/745770455515465/
We've worked with many of you with interviews and advance coverage – and we thank you for helping to spread the word!
Your media pass allows you access to events subject to capacity.
An RSVP list is an effect for the five-ticketed events, https://www.winterfolk.com/winterfolk-advance-ticket-sales/
Please send your request to rsvp@planet3com.net and c.c. joanne@planet3com.net
We will get back to you with a confirmation.
Please wear your media pass in a visible place to gain entry.
Cameras/photographers: please do not use flash and please note, photo restrictions may apply.
There will be a feed at most venues to plug in at the mixing board.
In an attempt to aid media in getting their best possible coverage, please advise us of your needs.
We are here to facilitate any interview requests that you may have!
The Media Centre/Festival Headquarters is located at the Black Swan Tavern, 154 Danforth Ave, main floor, throughout the festival.
USEFUL LINKS
https://www.winterfolk.com/hi-resolution-images-for-print-media/
https://www.winterfolk.com/category/press-releases/
https://www.winterfolk.com/video-clips/
Please forward your editorial support to
info@winterfolk.com and please c.c. info@planet3com.net
Enjoy the 13th Annual Winterfolk Festival!   Thank you!
 For media information:                                                
Planet3 Communications Ltd./Joanne Smale
c: 416.554.2637,  Joanne@planet3com.net