FOR IMMEDIATE RELEASE
EARLY-BIRD TICKETS ON SALE NOW!
WINTERFOLK XII BLUES & ROOTS FESTIVAL
FEBRUARY 14-16, 2014
SPECIAL PRICING UNTIL CHRISTMAS! VENUES ANNOUNCED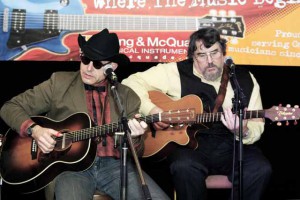 TORONTO – THURSDAY, DECEMBER 19, 2013 – Tickets are on sale now for the 12th annual Winterfolk Blues and Roots Festival taking place February 14-16, 2014. The festival announces special holiday pricing until Christmas, and is back at Broadview and Danforth in a host of venues, both familiar and new. Winterfolk will present more than 150 of the finest folk, roots, world and blues artists – including Ron Hynes, Danny Marks, Swamperella and Tony Quarrington. For more information on the festival and for updates, please visit www.winterfolk.com. Media accreditation is now open; forms at https://www.winterfolk.com/media-accreditation/.
Winterfolk is a combination of paid and free concert stages; a fantastic option for a fun, family-friendly activity in Toronto. It's an all-ages, mid-winter, weatherproof, urban blues and roots music festival that emulates multi-stage rural summer festivals. Pre-paid festival tickets offer admittance to all Winterfolk events except "Honouring Our Own" presenting Tony Quarrington, which is offered as a separate ticket. Until December 25, a three-day all-access weekend pass is only $20. After that, the price goes up to $25 until February 1, and then $30 until February 13, with a walk-up price of $40 during the weekend. One-day passes from $15-$20 are not sold in advance. Festival-goers can act now and save a bundle on a perfect holiday-season gift. For advance tickets please visit https://www.winterfolk.com/winterfolk-advance-ticket-sales/.
Winterfolk will once again ignite the Broadview and Danforth scene with plenty of great music at a wide variety of venues including The Black Swan Tavern, Dora Keogh Irish Pub, Terry O's and newcomer Globe Bistro.
TICKETS AT A GLANCE:
Advance Ticket Sales
3 Day Winterfolk All Access Pass
Till Dec 25, 2013 – $20.00  
Till Feb 1, 2014 – $25.00 
Till Feb 13, 2014 – $30.00  
At the Door, Walk-Up
3 Day Weekend Pass – $40.00
One Day Pass – Not Sold in Advance
Friday Feb 14 – $15.00
Saturday Feb 15 and Sunday Feb 16 – $20.00   
Honouring Our Own – Tony Quarrington – $20.00
VENUES AT A GLANCE:
Black Swan Tavern (2 Stages)
154 Danforth Ave. / (416) 469-0537
http://www.torontopubs.com/pub/blackswan
Dora Keogh Irish Pub
141 Danforth Ave. / (416) 778-1804
Terry O's
185 Danforth Ave. / (416) 462-0038
http://www.torontopubs.com/pub/terrios
 Globe Bistro (Upstairs Lounge)
124 Danforth Ave. / (416) 466-2000
Stay tuned for more updates in the upcoming weeks, when the festival will announce the artists, special events, tribute concerts and workshops.
MORE ABOUT WINTERFOLK
Winterfolk was formed to entertain, educate, enlighten, engage and encourage the community about various music styles including roots, blues, folk and more. Founded by Festival Director Brian Gladstone, it is run as a division of The Association of Artists for a Better World, a registered non-profit organization in the Province of Ontario, Canada. www.abetterworld.ca
LOOKING FOR VOLUNTEERS!
We're always looking for volunteers to help out. For eight hours of service over the Winterfolk weekend, volunteers receive access to all shows, artist hospitality lounge and more! For more info and to sign up, please visit www.winterfolk.com
-30-
We are presently confirming interviews and images are available upon request.  Please add to your   listings.  Thank you!
 
For media information:
Planet3 Communications Ltd. 
Joanne Smale
joanne@planet3com.net
t: 647-346-4101 c: 416-554-2637
For festival information:
Beverly Kreller
SPEAK Music
www.speak-music.com
416.922.3620
Twitter: @SPEAKMusicPR
Facebook: www.facebook.com/beverly.kreller