Dec 9, 2014
Winterfolk XVIII Artists

2017 Canadian Folk Music Award Winner for Contemporary Album of the Year; new album GETAWAY released 2019 Call it prairie noir, or Canadiana desert rock: Abigail Lapell sings haunting, gorgeous modern folk songs. The Toronto vocalist, guitarist and multi-instrumentalist has released three acclaimed solo albums. Her 2017 sophomore release, Hide Nor Hair, won the Canadian Folk Music Award for Contemporary Album of the Year, and she was a 2019 No Depression Songwriter Award finalist. Lapell tours widely across Canada, the U.S. and Europe, ...
Read more ...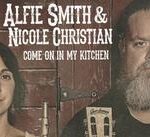 Award-winning slide guitar duo, 2018 IBC contestants, Hamilton-based songwriters and multi-instrumentalists Alfie Smith and Nicole Christian are old-style slide guitarists, multi-instrumentalists and a blues duo not to be missed. Featuring Alfie's belting baritone vocals mixed with Nicole's sass and jazz flute, they bring you blues, roots and originals in a way you have never seen before. Traveling from Sudbury Northern Lights Festival to the IBC's in Memphis and to Mexico and back, they are most often found on stages and venues in ...
Read more ...

Will You Ever Care for Me, Last CD released in 2009 and gained attention of the Cowboy Junkies and a place with their label Latent Records. Barbara Lynch is a Toronto based singer songwriter. Her music has strong blues, old style jazz rhythms and boogie woogie piano influences.
Read more ...

Past John Lennon and Isc songwriting contest winner, Irrelevant show cast member and touring artist. Super fun singer songwriter and storyteller.Great guitar player, fun to watch, memorable songs. Ben Sures is a Winnipeg folk festival raised singer songwriter known for his great performances and songwriting. He has toured across Canada, done numerous Homeroutes tours, festival appearances, concerts and house concerts. He has also released 9 albums and played guitar for many other artists including Angie Nussey, Paul Reddick, Harpdog Brown, Emma Cook and ...
Read more ...

Latest CD Release 2016–The Horses Are Loose; Co-Founder Alive Poets Society (1987-2000 ) BILL HEFFERNAN is a Singer-Songwriter, Story Telling, Spoken Word Artist, MC, Auctioneer, and Social Activist Teacher. From the back-roads of Southern Ontario to the Pan American Highway, from protest lines to gated communities, from hockey arenas, racetracks and legion halls, to back alleys and war zones, from coffee houses to dive bars BILL HEFFERNAN captures in song, story and spoken word the landscapes and characters encountered along the way. www.billheffernan.ca
Read more ...

The Brampton Folk Club is a nonprofit community group dedicated to promoting folk music in the Brampton area. We have been around for 22 years and have over 50 members from all over the GTA. We hold monthly song circles, present two concert series, hosts open mics and participate in a variety of community events www.bramptonfolk.ca
Read more ...

Slow-cooked, solid-groove story-telling blues from this year's recipient of the Maple Blues "Blues Booster" lifetime achievement award Brian Blain, a mainstay of the Toronto blues scene since the early 90s and a well-respected "elder statesman" of the blues will be playing tunes from his upcoming CD. Brian has been a favourite at previous Winterfolk festivals and has provided a launching pad for many young blues artists with his legendary "Campfire Jams" at Hwy 61, The Gladstone and currently The Old Mill in Toronto. ...
Read more ...

"Clela has it all and she showcases her talents effortlessly, beautiful, spiritual, and earthy." Fatea Records UK Clela Errington has a voice that is timeless and true, effortlessly reaching beyond technique and trends to wrap you in a warm soul embrace. Clela's vibrant blend of folk and jazz creates the perfect vehicle for her intimate and dynamic vocal delivery, and nowhere are her gifts more evident than in her original songs. www.clelaerrington.com https://www.facebook.com/ClelaMusic/ https://www.youtube.com/watch?v=xr9SEnOXhS4
Read more ...
Steely Dan and Fleetwood Mac go wandering through the backwoods playing songs you've never heard before With her palette of acoustic folk instruments, Collette whittles out of her imagination beautiful song gems. She brings them to you wrapped in the exciting package of her band of seasoned masters, The Savants. With her palette of acoustic folk instruments, Collette whittles out of her imagination beautiful song gems. brought to you wrapped in the exciting package of her band of masters. The Savants which include: ...
Read more ...

Winner -Songs from the heart 2008, Signal Hill CD release 2019 D'Arcy Wickham is a teacher and performer of multiple guitar genres and stringed instruments who delights with his musical prowess as shown on his new 'Signal Hill'album In over 45 years of performing, and currently with his son accompanying him, and with the release of three albums of original music, D'Arcy Wickham has established himself in the top ranks of Canadian acoustic music artists. www.darcywickham.com
Read more ...

New CD release 2018 – Resolutions, 2001 Brampton Arts Acclaim Award, Multiple Song Contest Winner (NSAI, Billboard Magazine) Dynamic singer-songwriter with 3 CD releases featuring award winning songs for songwriting. Dan McVeigh is an award winning songwriter with 3 CD's to his credit. He is also been a coordinator for over 23 years with the Nashville Songwriters Association International for Toronto and is the Artistic Director for the Tin Pan North Songwriters Festival now in its 21st year.
Read more ...

Star of stage screen and radio, award winning musician, broadcaster singer songwriter. Danny Mark's roots go back to 1960's Capitol records band, Edward Bear. Danny Marks is a Toronto Blues Society's Blues with a Feeling Award winner for lifetime achievement. This iconic rocker's roots go back to the sixties as a founding member of Capitol Records' group, Edward Bear. Currently in 18th year as host of Jazz FM.91 Saturday Night. www.dannym.com https://www.facebook.com/danny.marks3 https://www.youtube.com/results?search_query=%22danny+marks%22
Read more ...

New CD Released August 2019 An artist who sings songs In The Heart Of Now. David is a prolific performing songwriter with 7 albums released, and one coming next Aug 2020-he has recorded 5 albums in Nashville with stellar A-list players. David has received a warm welcome at radio, charting two songs, a No# 2 and a No# 8, in Europe, in 2019 www.davidmclachlan.com www.facebok.com/@tunesmithdavid www.youtube.com/davidmclachlanmusic
Read more ...

A SONG WRITER AS QUINTESSENTIALLY CANDIAN AS MAPLE SYRUP AND ICE STORMS BeatRoute magazine: "David Storey and the side Road Scholars effortlessly bring the boot stomping, sing along energy when the time is right, but also know how to settle into more pensive moments." New Album "made in Canada" released Jan 2019 Like his previously acclaimed releases, David Storey's new recording, Made In Canada reflects on his life and those of people he's known with a mixture of wistfulness, his characteristic wry ...
Read more ...

9 time Maple Blues Award winners , New CD released 2019 Hot blues and cool jazz with Diana's memorable voice and Chris' multi-instrumental virtuosity. Multi award winning duo, Diana Braithwaite and Chris Whiteley have toured extensively throughout North America and Europe , including a concert in Moscow. They were given songwriter of the year honours at the Maple Blues Awards and have recorded seven albums together, featuring original and classic blues, jazz and gospel. www.hotblues.ca www.Facebook.com/diana.braithwaite.90 https://www.youtube.com/watch?v=PITAeCBLXkM
Read more ...

2 times Juno Award winner and 3 times Juno Award nominee. New release on Nov 2019 – Donné Roberts ONWARD Donné Roberts is a guitarist and a singer songwriter. Donné Robert's music makes winter feels like summer. African blues & jazz with joyful groove from Madagascar. www.donneroberts.com https://www.facebook.com/donnerobertsmusic/ https://vimeo.com/354094501
Read more ...

Afro Scotian Music Award, Chalmers Award, Honored Dyke(Toronto Pride), Recipient, Ontario Federation Labour Cultural Activist Award Faith Nolan a Queer Afro Scotian singer-songwriter and self-taught musician,folk singer , banjo ,guitar bluesharp her career spans 50years plus. To call Faith Nolan a folk singer doesn't come close to doing her justice. Her music career spans 40years plus. Among the many choirs she founded are the CUPE FREEDOM SINGERS,a group of PSW all wimmin, mostly of Caribbean descent; the Vanier Womens Jail Singers, the ...
Read more ...

Winner, Folk Music Ontario 2019 "Songs From the Heart" Award, Singer-Songwriter; New CD "All That's Real" Released Sept 2019 Uplifting folk-roots music with divine harmonies. You will come to listen, and walk away singing. GATHERING SPARKS is the graceful collision of Eve Goldberg and Jane Lewis—musical friends who blend tight harmonies, finely crafted songs, and a love of participatory singing to create an intimate and uplifting experience. Their inclusive approach embraces folk, pop, blues and gospel influences tastefully played on acoustic guitar, piano, accordion, ...
Read more ...

Glen Hornblast is an award-winning Toronto songwriter, well-known to the Toronto folk community. Glen Hornblast is a well-known Toronto singer-songwriter whose music is an intoxicating blend of folk, country, blues and jazz. His latest CD "Once In A Blue Moon" has been very well-received and has garnered great reviews and radio play around the world. He describes his songs as "sad little stories of love, loss and heartache." www.glenhornblast.com facebook.com/glenhornblast twitter.com/glenhornblast
Read more ...

Blues-infused music with a message Heather Luckhart brings her life experiences and endurance into every musical moment. Luckhart's connection to the blues is one she has earned. Her passion for the music community connects her internationally, which is evident through her social media influencer status on Instagram as well as through her various community driven initiative including her #120bluesnight monthly jam in Toronto. Currently a vocalist in The Tiki Collective and a driving force on her own, this performer is building momentum quickly. www.instagram.com/HeatherLuckhart www.facebook.com/HeatherLuckhartMusic @heatherluckhart
Read more ...

Howard Gladstone unveils new songs on climate crisis, modern and ancient exiles, remembering Woodstock, and other urgent topics. Howard Gladstone asks: Are songs the front line in a world where beauty, truth and understanding are elusive? Howard Gladstone shares emotion and meaning in his songwriting and performance. His fifth album, Hourglass, released in 2018 is his most honest and accessible, with "nine exquisite songs"* recounting a journey to recovery from a spinal cord injury. New songs emerging in 2019 continue the quest for beauty and ...
Read more ...

Isaak is the Subject of 'Waiting in the Street' – A documentary by Shane Pendergast Isaak Bonk is a Toronto born musician, he plays a mixture of his his own compositions and pre-war/ folk revival era country blues and bluegrass. A TTC busker and musician about town, Isaak plays in many of Toronto's bona fide folk clubs. Holding a monthly residency at Relish Bar & Grill as well as the Black Swan Tavern. https://www.facebook.com/IsaakBonkMusic/ https://www.facebook.com/IsaakBonkMusic/ https://www.youtube.com/watch?v=iZJpp3coDxo
Read more ...

Jack de Keyzer, 2X Juno, 7X Maple Blues Winner, International blues guitarist, singer & song writer. Jack de Keyzer plays the blues world wide. One of Canada's most awarded and in demand blues guitarists he has released 11 CD's and 1 DVD. An exciting live performer, soulful vocalist and world class song writer, de Keyzer performs an average of 150 shows per year and has wowed audiences at many major Jazz and Blues Festivals. In addition to the Juno and Maple Blues ...
Read more ...

40th album "The Heritage Hall Sessions" released 2019. New one-man Show "James Gordon's Emergency Climate" Musical touring now. Veteran Canadian Songworker and Poetician. James Gordon is a Canadian songwriter/playwright/musician/producer and community activist. Co-founder of the legendary Canadian folk trio Tamarack, He's released 40 albums in 40 years! He was a weekly contributor to Arthur Black's "Basic Black" CBC radio program, and has had more than 100 artists cover his songs. His song "Frobisher Bay" has become a Canadian classic and is sung ...
Read more ...

Winner Durham vocalist of the year 2011, CBC Song of the week Oct 2016, CBC sounds of the season 2016 JTB is a wickedly talented group of musicians delivering funk, soul and a blistering brand of rhythm and blues. Jerome Tucker Philadelphia area born, Co-wrote songs with Ivan Neville of Keith Richards Band. Played with Otis Rush, Dickey Betts of the Alman Brothers, Lonnie Brooks, Larry McCray, Sugar Blue, Byther Smith, Kenny Neil.(List too long) Cp24 TV, CBC Radio, 1st runner up Maple ...
Read more ...

"Brooks' massive declamatory vibe and hypnotic, inimitable guitar playing gives an audience goosebumps you could grate cheese on." – Paul Corby, 2019. A machine gun of sincerity saving us from the healers of sadness and unknowing. Jon Brooks' music is polyphonic in sound, word, and influence. His performances are emotionally intense raids on the inexplicable human heart. Brooks' 7 albums are thematic obsessions over paradox, love, fear, religion, war, PTSD, https://jonbrooks.ca/home https://jonbrooks.ca/videos
Read more ...
Debut album "What Day Is It" now available Worldwide Just Jillian is a solo artist with a long history in the Toronto music scene. "The Toronto based artist clearly doesn't construct her sound around any boundaries of genres with her delectable infusion of Indie, Folk, Pop, Hip Hop and Rock all into one hauntingly resonant track." ~ANR Factory review of "Free Radio" fea. Redkin tha Ancient Just Jillian has a long history in the Toronto music scene. She is a multi- instrumentalist, playing guitar, ...
Read more ...
2018 Taste of Country Riser Buffalo based singer songwriter and Taste of Country Riser. Kate Mallen is a singer songwriter from Buffalo, N.Y. and a member of NSAI's Toronto. In 2018 she won Taste of Country's 'Riser' competition and was featured on the Taste of Country Nights syndicated radio show performed at Buffalo's Taste of Country Concert featuring Thomas Rhett, Chris Janson, Scotty McCreary and Danielle Bradbury. She began her career in NYC playing such legendary landmarks znd CBGBs, CBGBs Gallery, The Knitting ...
Read more ...
7 Juno nominations for his own recordings in Blues, Roots, Traditional & Children's categories 20+ Canadian Maple Blues Award nominations, Best Blues song for "Everybody has the Blues" (OCFF/FMO 2007) Estelle Klein Lifetime Achievement Award (OCFF/FMO) & Canadian Hall of Fame Award (Mariposa Folk Festival) Ken Whiteley is a multi award winning songwriter, performer and producer whose musical journey has taken him from jug band, folk and swing to blues, gospel and children's music. Ken Whiteley has won a Canadian Folk Music Award, a ...
Read more ...

Stony Plain Recording artist. Kevin Breit is a Canadian musician who has traveled the world making music. Kevin Breit has recorded with Norah Jones, Rosanne Cash, k.d. Lang, Hugh Laurie, Cassandra Wilson, Holly Cole, Jane Siberry, Serena Ryder, Taj Mahal, Irma Thomas and countless others. Known for his inimitable guitar playing, exquisite lyrics and eccentric performances. He has won a Maple Blues Award, Gemini Award, National Jazz Award, Canadian Folk Music Award, two Juno Awards and has recorded on albums that earned 10 Grammy ...
Read more ...

Kyp Harness has released 15 albums of his songs. He has opened for Elvis Costello and has his songs covered by Ron Sexsmith and Mary Margaret O'Hara. Kyp Harness has released 15 albums of his songs and published two novels. Kyp Harness has been called a "great writer" by Daniel Lanois, has opened for Elvis Costello. www.kypharness.net https://www.facebook.com/groups/36295260406/ https://www.youtube.com/watch?v=I7omojSSjAg
Read more ...
Born in Madrid, Laura Fernandez is a versatile singer songwriter pianist whose music merges the genres of pop, jazz and Latin music. Laura Fernandez was born in Madrid, Spain and immigrated to Canada as a young girl after also having spent a good part of her childhood in Switzerland. As a result her musical influences encompass a broad range of styles and cultural references. She is an accomplished pianist, singer and songwriter and writes primarily in English and Spanish but also performs ...
Read more ...

Lynn Harrison returns with "Something More," acclaimed new solo release. An inspiring artist with songs of uncommon beauty, integrity and spiritual insight, Lynn Harrison returns to Winterfolk following the release of her sixth recording "Something More". One of the Toronto music scene's enduring treasures and a gifted artist of "integrity and spiritual insight, Lynn Harrison returns to Winterfolk with more songs of inspiration, hope and courage. A "true artist: poet, musical composer, instrumentalist, singer, guitarist and performer" (songwriter Allan Fraser), Lynn has recently ...
Read more ...
Great Canadian Singer/songwriter with a Juno Award and 6 Canadian Folk Music awards Lynn is a Singer / songrwiter with 900 songs 14 albums and thousands of roads travelled. Lynn Miles is one of Canada's most accomplished singer/songwriters. With 14 solo albums to her credit, the winner of the 2002 Juno award for Roots and Traditional Solo Album of the Year and multiple Canadian Folk Music awards including "Solo Artist of The Year" for her CD "Downpour" and 2011 "English Songwriter of the Year". Lynn ...
Read more ...

New CD Echoed Light released in Spring 2019 Folk roots songwriter Meg Tennant's new CD Echoed Light offers up some hope, comfort and clarity. Originally from Northern Ontario, songwriter Meg Tennant is currently based in Toronto after spending many years on the west coast. She has opened for the likes of Eliza Gilkyson and Tom Russell at Vancouver's Rogue Folk Club. Her a capella songs have been performed by choirs in BC, Australia and Sweden, and she has had songs recorded by ...
Read more ...

New Single #1 from upcoming EP will be out in Jan/Feb/Mar 2020, Single #2, from album + full album Apr/May/Jun 2020! For over ten years, Melanie Peterson has been entertaining fans, near and far, with her cheerful, lively, original songs, and unique renditions of cover tunes. This Saskatoon born Toronto-based singer-songwriter has quietly become one of the brightest lights on the Toronto folk scene. With her aching vibrato and prairie roots, her work has been consistently praised by listeners and music critics alike for her ...
Read more ...

Toronto born Mike McKenna is a blues guitar player who in has played with Luke & the Apostles, Downchild, MeKenna Mendelson Mainline, and more. Opened for Jefferson Airplane & Grateful Dead His unique style of electric slide guitar has even earned him induction into the Canada South Blues Society Hall of Fame, an event scheduled for October of 2013. He is best known for his work in the much-lauded 1960's band Luke and The Apostles, followed by the equally revered McKenna Mendelson ...
Read more ...

Mr. Rick is a Singer and fingerstyle acoustic guitarist performing original arrangements of the Trad. American Roots and Blues Song book. A solo album by Rick is coming any minute now Rick's 3rd CD "Songs about God and Booze" available at CD Baby. Now Magazine, 4 stars. Singer, guitarist, and player of old time Roots Americana, Mr. Rick (aka Rick Zolkower) was born in post war Detroit. Mr. Rick learned his craft by watching and listening to the iconic folk blues performers of ...
Read more ...

Noah Zacharin is an acknowledged guitar master and literate songwriter with 7 CD's of original music and countless appearances on stage and CD, supporting many of the best in town and beyond. Noah Zacharin is an exciting performer—a singer / songwriter / guitarist with 7 solo CD's of multi-genre music, several collaborative efforts, and production and performance credits on nearly 50 recordings by other writers throughout North America. He has been called "a wonderful songwriter and performer, and stunning guitarist" (Paul Mills, ...
Read more ...

NSAI Toronto has been part of the local songwriting community since 1992. NSAI Toronto has supported songwriters through monthly seminars on the art of songwriting and music industry education. They also provide opportunities for their members to perform in showcases such as Winterfolk and their own music festival called Tin Pan North now in its 21st year which is held in May. www.nsaitoronto.com https://www.facebook.com/NSAIToronto/
Read more ...

"Nathaniel: A Tribute to Nat King Cole" Silver Medal, Best Album, Global Music Awards '17; "Sweetheart" Best Jazz Song American Songwriting Awards '18 Award-winning Award-winning jazz singer, songwriter and recording artist Ori Dagan is taking jazz to new and exciting places. His rich baritone voice and impressive abilities as an improviser produce an instantly recognizable sound. In live performance, he surrounds himself with Canada's finest musicians, performing an engaging mix of material which is always fresh and in the moment. www.oridagan.com /oridaganjazz https://youtu.be/gK1_4sjgrxM
Read more ...
Brand new single, Without Me, available now on all streaming platforms! Paige Rutledge is a young, energetic performer you don't want to miss. Paige Rutledge is an up and coming Canadian Country artist to watch. Paige has been performing across Ontario for the past six years and always brings crowds to their feet with her energetic stage presence. Paige has recently played events with the Country Music Association of Ontario and named the emerging artist winner at Canada's Largest Ribfest in Burlington, ON. Paige has ...
Read more ...

Cowriter, coproducer,performer – two original CDs: Q&A "Christmas Dream", Q&A "One More Thing". Writer/performer, 2 original CDs for Children:" ROWAN!" Seasoned actress, comedienne, director, singer, songwriter. Zoey Adams' performance career has spanned many decades. An actress, comedienne, singer, writer and director, she has worked across Canada, the US and in England. Zoey is the writer/ performer of two story cds for children entitled "ROWAN!". She also writes and performs in Spanish, including original songs. Now, in her new iteration as one half of "Q ...
Read more ...

Folk Alliance Australia 'Young Artist of the Year 2019/20', New CD Released 2019 Saiji is a multi-instrumental folk duo whose soulful harmonies, dynamic guitar-lines and percussive breakdowns breathe life into heartfelt stories. Their song writing typically encourages connection to self, to the earth and to each other, inviting you on a journey from the depths of ancient forests to bustling French markets, weaving threads of Celtic and French gypsy flavours into their songs along the way. They are the Folk Alliance Australia 'Young Artist ...
Read more ...

New CD Released November 2018 – A Jewish Boy's Christmas Toronto based jazz singer, former chorister on CBC's "Hymn Sing" Sam Broverman is a Winnipeg-born, Toronto based jazz singer and songwriter. He has performed in venues across Canada, the US, Europe and Asia. He began his professional singing career in Winnipeg as a teenager, appearing in theatre and cabaret productions and also on the nationally televised shows "Hymn Sing" and "The Doug Crosley Show". Sam regularly performs in the Summer Entertainment Series at Winnipeg's Lyric Theatre. ...
Read more ...

A 52 year veteran of the Canadian music scene. Seb is a scathing, hilarious, politically incorrect but always entertaining performer. Since his band, "The Lords Of London", topped the Canadian Charts when he was just 14 years old, Seb Agnello has performed with the likes of Jimi Hendrix, The Mothers Of Invention, Marvin Gaye, Etta James, The Youngbloods , Booker T. and The M.G's, and others; opening shows for The Flaming Lips, John Otway and Nashville legends Hank Snow, Charlie Pride and Hee ...
Read more ...

Seneca College's music programs offer a unique educational opportunity to a select group of creative musicians. The intensive, hands-on curriculum, taught by some of Canada's top music professionals, provides the students with the technical, musical and business skills to be truly Independent; to create, produce and market their own unique vision www.senecacollege.ca/music
Read more ...

Sonic Peach Music is a Record Label focussing on great music in multiple genres, and released in high resolution audio format. The founding SPM artists will perform in this showcase – Laura Fernandez, Q&A, and Howard Gladstone. Note to all musicians: be sure to record in HD format to future proof your work, as HD streaming and downloading enters the mainstream. www.sonicpeachmusic.com
Read more ...

Songs from the Heart Contest runner up You know her as Swamperella – Toronto's Queen of Cajun…that little power house that can rock a room and can get anyone up dancing…anytime…anywhere! What happens to 'Swamperella' once the party is over and everyone has gone home? Soozi Schlanger's solo project soozimusic, paints a personal portrait that exposes the private world of the artist behind the scenes…her internal world…the motels and hotels, the long drives, the one night stands…witty, gutsy, vulnerable and true…and as one ...
Read more ...

Steve's CD was released in 2010 at Hugh's Room and had extensive radio airplay across Canada. Steve Raiken has been playing guitar and singing for 50 years. As a student at the University of Buffalo in the late 1960s, Raiken immersed himself in the folk music scene. Raiken began performing with a fellow student, Marc Cashman. They performed as headliners and as the opening act for Tom Rush, Hall & Oates, and George Carlin. The duo split up in 1973. Raiken spent the ...
Read more ...

Songwriters, singers, musicologists, authors, advocates, activists – Socially conscious Canadiana folk music with a few twists Born too late to be part of the 1960's folk revival, Winnipeg born, Toronto based Sue and Dwight embody the musical spirit of that time. Their songs about the prairies, life in the big city, and travels in East Africa impart human stories of peace, courage, and social justice. The duo have released 3 CDs including 2016 's For A Moment and numerous singles. When They Came ...
Read more ...

New Sophomore CD In The Clear Released January 2019; Winner, 2019 Colleen Peterson Songwriting Award for All In Place Canadian Americana singer, songwriter and guitarist Suzanne Jarvie is about to embark on her second 2019 European tour supporting In The Clear and is thrilled to be back at Winterfolk 2020 playing music in the TO community! Suzanne Jarvie is out with her 2019 sophomore release In The Clear, following her critically acclaimed debut, Spiral Road, written in the aftermath of almost losing ...
Read more ...

Swamperella is not only Canada's own Cajun/Zydeco band with 22 years under their shiny belts – Swamperella is an experience! What puts the swamp into Swamperella? Driving accordions – Gutsy fiddling- Sultry vocals and a Killer rhythm section that pumps out a 'cant sit still ' authentic Cajun / Zydeco groove. Whether acoustically, at back porch b b q s, street parties or in barns, or plugged in for large festival stages and massive corporate events, Swamperella will captivate audiences with infectious rhythms ...
Read more ...

Debut Album Produced With Eddie Kramer, Pre-Order Available Now. Taylor Abrahamse is a Toronto singer/songwriter. Co-founder of Silverthorn Studios, he has played across Ontario and wowed crowds with songs he wrote for his debut album, produced with the legendary Eddie Kramer (Jimi Hendrix, The Beatles, Brian May, Carly Simon & many more). A professional singer/songwriter, recording studio owner & voice actor, Taylor is on the verge of a breakout moment in a promising career. He was a Top 40 finalist on Canadian Idol, and ...
Read more ...

Singer-songwriter, poet and performer, tempered by the 60s-a beatnic hippy radical imbued with lots of mirth apparently. (Image not available at time of posting) Singer-songwriter, poet and performer, tempered by the 60s-a beatnic hippy radical imbued with lots of mirth apparently. From Virginia most recently in 1970 when landed in Stratford after playing in a rock musical. Joined political folk group, "The Perth County Conspiracy" Terry then toured, recorded, played halls and clubs, and did radio and TV shows. From Virginia most ...
Read more ...

The Layrite Boys, Self titled EP released, 2017. Stay tuned for the full length LP record! Toronto's Old-time Country Duo. The new-old stock country sounds of The Layrite Boys hearken back to the Golden Age of country and bluegrass, but with feet firmly planted in the modern age. Though their style could outshine your ex's wedding ring, it is the substance of the Layrite Boys that could easily rekindle that lost love. After sharing the stage with such musicians as The Sadies, ...
Read more ...

Winterfolk this year is proud to present the return of Glen Hornblast & the Queen Street Cowboys ! Winterfolk this year is proud to present the return of Glen Hornblast & the Queen Street Cowboys playing their blend of Americana and Canadiana country music. Playing a mix of country standards and Glen Hornblast originals – and with guest performances by a whole bunch of local songwriters – Glen Hornblast & The Queen Street Cowboys are sure to provide an entertaining afternoon! www.glenhornblast.com www.facebook.com/glenhornblast www.twitter.com/glenhornblast
Read more ...

Vivienne Wilder is a Canadian singer, multi-instrumentalist, writer, and visual artist currently living in Toronto. Originally from sunny Saskatchewan, Wilder grew up in a musical family, the youngest daughter of an orchestra bassist father and torch-singer mother. After many years of 'side-manning' for a long list of bands and solo artists, she became devoted to songwriting while living in Austin, TX, and touring North America and Europe with a folk collective called The Sweetness. Her eponymous debut EP immediately garnered an honourable ...
Read more ...

Since 2013, VK Artist Promotion & Bookings has been working with talented artists across the GTA, supporting the live music scene in the city. VK offers live music entertainment, for any event or party, to help create an exciting and memorable experience. We are excited to showcase a few of our artists at Winterfolk. www.vkartproman.com https://www.facebook.com/VK-Artist-Promotion-Bookings-161039940760089/
Read more ...

Songs you've heard too many times, but not lately. Wayne Neon is the illegitimate love child of Bob Dylan and Duke Ellington. Memorable melodies, clever lyrics, rich voices, and solid rhythms are his hang-ups. His laser focused folk, jazz, blues, rock, skiffle, country, mariachi, English Beat, Motown, Dixieland, Honky Tonk, shuffle, pop, beach party, lounge music gives new meaning to the word eclectic. Buddy Holly, John Prine, Dell Shannon, Nat Cole, Neil Young, Pete Seeger, Jerry Jeff Walker, Fred J. Eaglesmith, Leonard ...
Read more ...

Award winning guitarist, songwriter, instrumentalist, humorist and 'all-round idiot' joins the Winterfolk Cast! He's won awards for his guitar playing, his films and his albums. And his shows are crazy, only one thing is guaranteed.. you'll laugh! Wendell Ferguson is first and foremost a fingerstyle guitarist. But he also has a predilection for humour. Humourous songs, stories and quips. They've given him awards for both. They even put him in the Canadian Country Music Hall of Fame. But hey, it's a small hall and it ...
Read more ...

Canadian barefoot multi-instrumentalist Yan-Nick Michaud spills his out to the stage with a strong sense of love, honesty a humility. With one bare foot rattling various homemade shakers and the other thumping upside the old, rickety, wooden Cajon upon which he sits, there's clearly nothing fancy about what Yan-Nick Michaud brings up on that stage, but the sounds of his stories are bound to grip you. Canadian Singer-Songwriter Yan-Nick Michaud blurs the lines of acoustic indie rock with a soulful bluesy folk ...
Read more ...