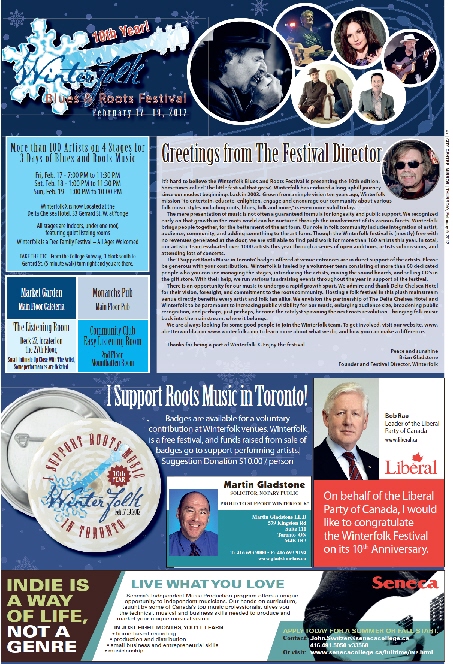 Nov 15, 2012
Winterfolk Festival Program – 50,000 Copies Carry Your Message




Program Advertising Rates




Sample Pages from Last Year




---

About the Festival Program


Format— Colour Newspaper Tabloid

Content— Winterfolk performance schedules, artists bios,
advertising, editorial—a must for every attendee.

Distribution ~ 50,000 copies will be printed and distributed with 47,000 delivered as centre insert in City Centre Mirror; 10,000 to festival attendees, given out at the door.

Artwork— Professional graphic layout included—there is no extra fee for graphic design and layout. Art can be supplied electronically as .jpg, tif, gif, pdf, or other agreed format, 600 x 600 resolution preferred.

Deadline – February 1, 2013

Sponsorship and Program Advertising Contact Info

Contact Dougal Bichan
Email sponsors@winterfolk.com

Phone 416.645.0295
Fax 416.645.5931

Size (in x in)
Inside Page $
Cover $
Artist Rate $
Cover Basebar

10 3/8 x 3

1150

Full Page

10 3.8 x 14

2295

2895

Half Page

10 3/8 x 7

1295

1795

800

Quarter Page

5 11/16 x 6 1/8

795

1075

500

Eighth Page

4 9/16 x 3 13/16

395

550

275

Business Card

3 3/8 x 2 1/2

195

290

125

What's New At Winterfolk This Year?


Combination of Free and Ticketed Performances -


Winterfolk will be a combination of free as well as paid stages.

Growth Year


One of our goals this year is to expand the festival and increase awareness of our event. The event will be advertised and promoted throughout the GTA, and we hope to expand it over the next few years to a larger scale event. Participating clubs will be included in our promotion.

Good For Business


Good for the Community Good for the Sponsors


Increased Attendance


Increased Revenues


The festival attracts qualified customers with money to spend! Your ad in the Winterfolk program will inform festival attendees about your business.

About Winterfolk


• Winterfolk was formed to entertain, educate, enlighten, engage and encourage our community about various folk music styles including roots, blues, folk and more.
• This is our 12th year of operation, for 2014 we are once again at the Eaton Chelsea Hotel (formally the Delta Chelsea), downtown Toronto
• Winterfolk is a registered Not-For-Profit Organization in the province of Ontario.
• Winterfolk is a member of the OCFF (Ontario Council of Folk festivals)
• Winterfolk is supported and sanctioned by the Downtown Toronto BIA (Business Improvement Area.)
• Winterfolk programming supports our community and offers stages and expousure to new and emerging artists.